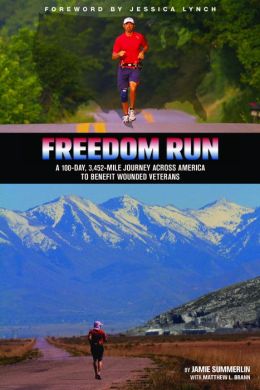 Author–UltraMarathoner–Motivational Speaker–Marine Corps Veteran Jamie Summerlin is a Gulf War era veteran, having served in the United States Marine Corps for six years. Currently, he serves as the president of the board of directors of Operation Welcome Home in Morgantown, West Virginia. He is also an inspirational speaker for business and professional organizations, schools, student athletes, veteran groups and the running community.
Summerlin's passion for running began in 2009 while training for his first marathon. He has been hooked on ultramarathon running ever since. His love for pushing himself to great distances, as well as witnessing the phenomenal things that Operation Welcome Home and other veteran-focused organizations have done for veterans, inspired him to come up with the idea of running across America in order to raise funds and awareness for such organizations.
Summerlin's "Freedom Run," a 3,452-mile, 100-day endeavor that he completed in 2012, began in Coos Bay, Oregon, and ended in Rehoboth Beach, Delaware, and covered a total of 16 states and the District of Columbia, with the final 100 miles being completed in just less than 24 hours. He became the 48th person ever to complete a true coast-to-coast transcontinental run across America. His journey not only raised money for national and local organizations whose mission is to assist veterans, but it inspired communities and veterans alike to dream big and find ways to support the United States military and veterans.
His wife, Tiffany, a Marine Corps veteran herself, met Summerlin in Iwakuni, Japan, while stationed there together in 1995. They reside in Morgantown, West Virginia, with their two children, Nicholas and Shayna.
"This tremendous cross-country run is a testament not only to Jamie's perseverance and strength, but even more importantly, to the men and women who inspired him to take up this challenge. Jamie's dedication to our nation and commitment to helping those who have been injured in service to this country is quite simply truly inspiring. He is showing all of us that we can each do more."
— US Senator Joe Manchin
"Freedom Run is a captivating book that is not only a story of one man's amazing run across the US, but also a story about the true American spirit. My family and I have hearts of prayer for those who have fought for our country, so I was proud to read about how Jamie Summerlin has used a sport that has meant so much to me to give back to our veterans."
— Jim Ryun, former U.S. Congressman, 3-time Olympian and world-record holder
"Freedom Run is Jamie Summerlin's inspiring story of how he set out to run across America to help wounded warriors, found himself along the way and proved that one person can make a difference by bringing us together to champion the common good that is in all of us."
— Marshall Ulrich, extreme endurance athlete, trans-American crosser and author of Running on Empty
---